Commercial Water Damage Prevention
7/12/2022 (Permalink)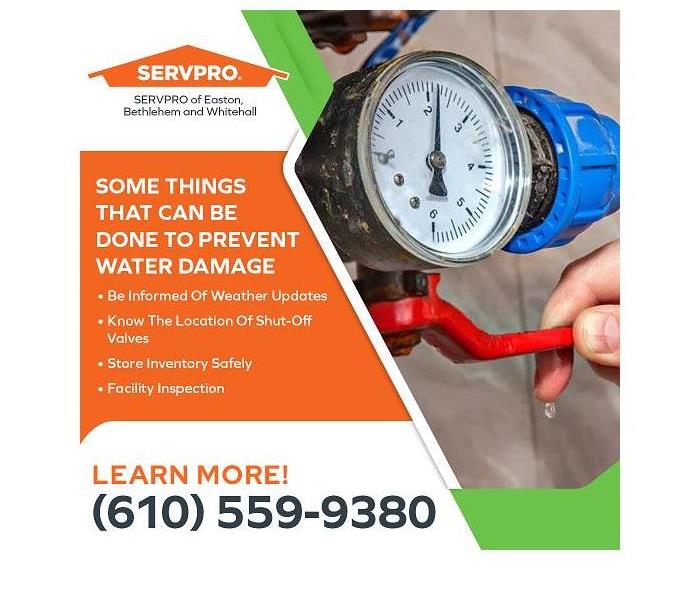 Blog Summary: In this article, SERVPRO of Easton, Bethlehem, and Whitehall shares information on commercial water damage prevention.
Water damage is caused by water intrusion leading to the destruction of building materials. This causes weakening to the building structure and damage to the objects in the building. Something like water that is such an important part of life and seems harmless can cause devastation to humans and their property.
Around 73,000 retail, office, and multi-unit residential properties are at risk of flood damage every year in the US. 2021 reports said that flood damage would cost commercial estates $13.5 billion in 2022. Commercial buildings can sustain water damage due to natural disasters or issues like faulty plumbing and leaks. Commercial water damage differs from residential water damage because it causes an impact on business and profits. In this article, SERVPRO of Easton, Bethlehem, and Whitehall shares how commercial water damage can be prevented. This property damage restoration company responds to water damage emergencies of any size 24/7.
No business owner would want a situation of commercial water damage. They would need to have some preventive measures in place.
Some things that can be done to prevent water damage
1. Be Informed Of Weather Updates
Business owners can be better prepared if they know when a storm is predicted and how strong it is expected to be. Sandbags can be useful to stop flood water from entering a building. It is safe to board up windows and doors so that they are not broken and water will be prevented from entering.
2. Know The Location Of Shut-Off Valves
Frozen pipes that burst cause water damage. They have to be shut off as soon as possible to limit the extent of water damage. Hence business owners and stakeholders should know where the shut-off valves are.
3. Store Inventory Safely
At least the valuable items must be stored in an area that is least likely to get flooded or affected by water damage. This will cut the costs incurred by water damage. Storing essential documents in watertight containers that protect them from water damage.
4. Facility Inspection
Commercial buildings or properties can be large. They still need to be inspected periodically for any problems that can cause water damage. Leaky roofs or appliances or faulty HVAC systems can lead to commercial water damage. If spotted early, such issues can be identified and dealt with so that they do not cause water damage. Bigger establishments or large businesses have a facility management department that looks into this.
While predicting when commercial water damage will occur is not always possible, being prepared always is helpful to limit the extent of water damage. Very small amounts of water that cause very little damage can be dealt with and cleaned up by staff. However, if there is excess water intruding a professional water damage restoration company needs to be called in. Time is crucial as immediate action minimizes further water damage. Water retained for more than 24 to 48 hours is more likely to cause mold growth. This would be an issue that adds to the damage restoration costs and also can cause other complications. Water damage restoration experts like SERVPRO of Easton, Bethlehem, and Whitehalalso do a faster more thorough job. This will help the establishment to be back in business as soon as possible with minimum inconvenience to customers. This reduces the risk of losing customers and limits the impact on business profits.
SERVPRO of Easton, Bethlehem, and Whitehall is a company with the training, experience, and equipment to handle any commercial water damage emergencies. They are available round the clock and have highly trained water damage specialists experienced in water removal, cleanup, and restoration. SERVPRO of Easton, Bethlehem, and Whitehall is quick to respond to a disaster of any size and prides itself on serving local communities throughout the country. For any kind of commercial water damage, SERVPRO of Easton, Bethlehem, and Whitehall can be contacted on the number (610) 559-9380.