Why Water Damage Repair Is Needed After A Fire
8/14/2022 (Permalink)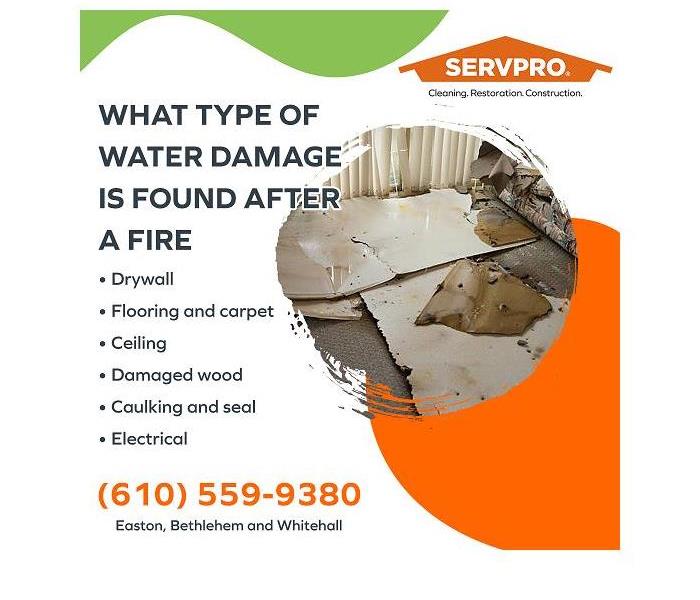 Blog Summary: This article by SERVPRO of Easton, Bethlehem, and Whitehall explains why water damage repair may be necessary after a fire.
A fire is a disaster that happens in an instant. However, it can lead to damages and devastation that have long-term effects. According to the National Fire Protection Association (NFPA), a home fire occurs every 89 seconds in the USA. Local fire departments are reported to have responded to 1,338, 500 fires across the country in 2020. 3,500 civilian deaths and $21.9 billion of property damage resulted from these fires.
Fires result in cosmetic and structural damage to buildings. Homes may be unsafe to be in after a fire until fire damage restoration is complete. SERVPRO of Easton, Bethlehem, and Whitehall is a fire and water damage restoration company that is locally owned and operated, but with a national presence. This company has a network of franchises and is proud to serve several local communities including Whitehall, PA. In this article SERVPRO of Easton, Bethlehem, and Whitehall explains why water damage repair may be needed after a fire. It is common to require water damage repair after a fire. In the aftermath of a fire, water is usually used to put out the fire. This water helps limit fire damage but necessitates water damage repair.
Water Damage After A Fire
How much water damage occurs after a fire is dependent on how severe the fire was and where water was needed to put the fire out. It is important that the entire home or building be inspected for both fire and water damage. The cleanup process after a fire also needs water. Irrespective of high-pressure hoses being used to extinguish a fire or a less destructive home sprinkler system being operated during a fire, there can be extensive water damage that needs water damage repair after a fire.
What Type Of Water Damage Is Found After A Fire
Drywall
Even if drywall is left standing after a fire, it can soak up water used after a fire. It can become swollen, soft, and weak after exposure to water. Moisture can lead to mold growth in the drywall. Fire and water damage may not suffice and drywall may need to be replaced. Water damage repair experts can help to determine if any parts of drywall can be dried and reused. They will remove and replace the remaining drywall.
Flooring and Carpet
Water can cause severe damage to floors if it is not dealt with soon enough. Wood can absorb water and warp, swell, or buckle. Hardwood floors can be affected by water damage. When moisture is left untreated on the floor for long, mold growth can also occur.
Water can collect beneath carpets. Sometimes carpets may be dried and disinfected and used. But very frequently, carpets may need to be discarded. This is because carpets can retain toxic substances after water damage. Moist carpets can also be an ideal place for mold growth. Inspecting and deciding if carpets can be salvaged and getting them dried and cleaned can be time-consuming. It is much easier if this is done by water damage repair specialists with the experience and skills to do so.
Ceiling
After a fire, if water damage affects the ceiling, it is critical as the compromised structural integrity can be dangerous. Fire on one floor can result in ceiling water damage to the floor below. Water accumulation on the ceiling can cause bowing, cracking, leaks, and problems like mold growth. Sagging or bubbling of the ceiling can indicate that water is trapped above and may cause the ceiling to cave in. The usual signs of water damage like water spots or staining may not be easy to identify after fire damage. Hence it is best for professionals from a water damage repair team to inspect and assess ceilings to ensure they are dry and structurally safe.
Damaged Wood
Wooden floors and furniture can soak a lot of water. When wood is soaked and damaged it may need to be removed and replaced. Cabinets, doors, floors, and any furniture must be checked for signs of water damage.
Caulking and Seal
When water is left standing for long, the seals around bath fittings, toilets, bathtubs, and appliances can become weak and lose integrity. The cracks that develop in the sealing, as a result, can cause water damage. The seals should be checked, and the damaged parts must be repaired with caulk. Repair must be done after completing the cleanup of the area.
Electrical
After a fire, and the use of water to extinguish it, electrical components and appliances can get damaged and lead to a risk of an electrical fire. Exposure to fire, smoke, and water can affect many electrical items and the electrical system. These may need to be replaced. When any electrical damage is suspected it must be left to professionals to handle to avoid any accidents.
Water Damage Repair
Water damage repair after a fire can take longer. The wet areas must be dried. A professional fire and water damage restoration service will have specialized equipment to handle the restoration process. The drying and dehumidification process can be completed swiftly using equipment like wet/dry vacuums, sump pumps, industrial air movers, dehumidifiers, etc. SERVPRO of Easton, Bethlehem, and Whitehall is a fire and water cleanup and restoration company. This company is capable of handling both fire and water damage repair simultaneously. There might be areas in the home that are damaged by both fire and water, and some that may be damaged only by one of these elements. SERVPRO of Easton, Bethlehem, and Whitehall has a team of highly trained specialists who can manage both fire and water damage repair efficiently. These are personnel who are trained and certified and can follow established protocols to handle both fire and water damage. SERVPRO of Easton, Bethlehem, and Whitehall can assist those in need of fire and water damage repair in different areas including in Whitehall, PA. SERVPRO of Easton, Bethlehem, and Whitehall can be contacted by dialing the number (713) 906-5133 or visiting their website.