The Water Damage Restoration Process
8/5/2022 (Permalink)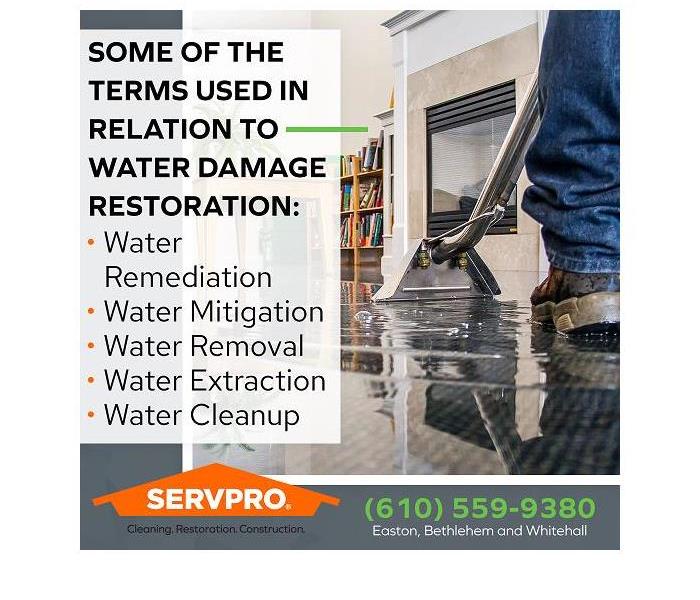 Blog Summary: The process of water damage restoration is explained by SERVPRO of Easton, Bethlehem, and Whitehall.
Water damage is one of the most common causes of property damage in the US. To limit the spread of water damage and avoid mold, a commercial water damage restoration company can be extremely helpful. SERVPRO of Easton, Bethlehem, and Whitehall is a company that understands how a disaster like water damage disrupts life and it has a goal to make it "Like it never happened." The staff at SERVPRO trained at their corporate training facility, they also get IICRC -industry certification. In this article, SERVPRO of Easton, Bethlehem, and Whitehall explains what the process of water damage restoration entails.
What Is Water Damage Restoration?
Water damage restoration is the complete water cleanup process from beginning to end. Water damage restoration specialists focus on restoring the property and all objects and belongings within it to their original condition.
The following are the steps taken after water damage:
1. Calling A Water Damage Restoration Expert
After ensuring that occupants of a building are safe and their whereabouts are confirmed, emergency services may be contacted. Water damage restoration professionals guide initial steps for safety. After documentation, contents of the property can be moved to protect them from further damage.
2. Inspection and Assessment
The location of water damage is identified and the severity is assessed by water damage restoration specialists. After locating the source of water causing damage, it must be stopped if possible. Based on the size, extent, and source of water damage the class or category of water damage is ascertained. Based on this, restoration specialists formulate timelines and budgets that can be expected for water damage restoration.
3. Water Removal
Submersible pumps, truck-mounted vacuums, or portable wet or dry vacuums, are used to remove standing and surface water. What equipment is used depends on the amount of water in the building. This is called water removal. Specialists like SERVPRO of Easton, Bethlehem, and Whitehall have advanced equipment for quick water removal. The longer water or moisture is left unattended in the building the more the risk of mold growth. So water removal is very important. The property is assessed again following water removal to determine the residual moisture levels. During this inspection, restoration specialists decide if building materials like drywall, furnishing like carpets, or flooring can be salvaged or need replacement.
4. Dehumidification and Drying
Water damage restoration professionals can dry areas that are difficult to access. They use industrial-quality dehumidifiers and fans to dry moisture. Drying and dehumidification will help prevent mold growth. They also help to limit residual moisture that causes materials like drywall and wood to warp and break.
5. Clean and Sanitize
The next step is to clean the area by spraying, wiping, dry cleaning, and wet cleaning. Several cleaning techniques may be used like foam, abrasion, or immersion cleaning. At this stage items that are not salvageable must be discarded.
6. Restoration
Finally, water damage restoration personnel execute repairs to restore the property to a pre-damage condition. Damaged floors and walls are replaced if needed, and repainting is done as required.
Several terms are used to refer to water damage restoration. The following are some of the terms used in relation to water damage restoration:
a) Water Remediation
All actions taken to remedy or reverse water damage come under water remediation. Cleaning, drying, sanitizing, and restoration of damage due to exposure to water are all part of water remediation.
b) Water Mitigation
Water mitigation is done to prevent further damage due to water in a building. Water removal or extraction, drying, removing damaged objects and building materials, cleaning and disinfection, using a tarp to protect the building, boarding up windows, etc are all processes in water mitigation.
c) Water Removal
Using high-velocity air movers and industrial dehumidifiers to remove water is water removal. SERVPRO of Easton, Bethlehem, and Whitehall uses submersible nad gas-powered pumps to pump away high-level water. Their truck-mounted and portable extraction units ensure efficient water removal.
d) Water Extraction
Using specialized equipment to remove large quantities of water in an external environment is termed water extraction.
e) Water cleanup
The removal of water, sanitization, and drying of areas affected by water is water cleanup. Especially when the source of water is considered to be contaminated (like in flood damage), this is vital.
It is good that property owners have a basic understanding of what water damage restoration is. It is helpful for them to know how professionals can handle certain aspects like water removal more effectively as they are skilled and equipped to do so. SERVPRO of Easton, Bethlehem, and Whitehall provides fire and water damage restoration services in Schnecksville, PA. The company has highly trained professionals to begin water removal immediately. With an immediate response to emergencies, SERVPRO of Easton, Bethlehem, and Whitehall keeps damage and the cleaning and restoration costs to a minimum. Residents of Schnecksville, PA who need water damage restoration services can contact SERVPRO by phone on (610) 559-9380.