Tips For Firework Safety
7/12/2022 (Permalink)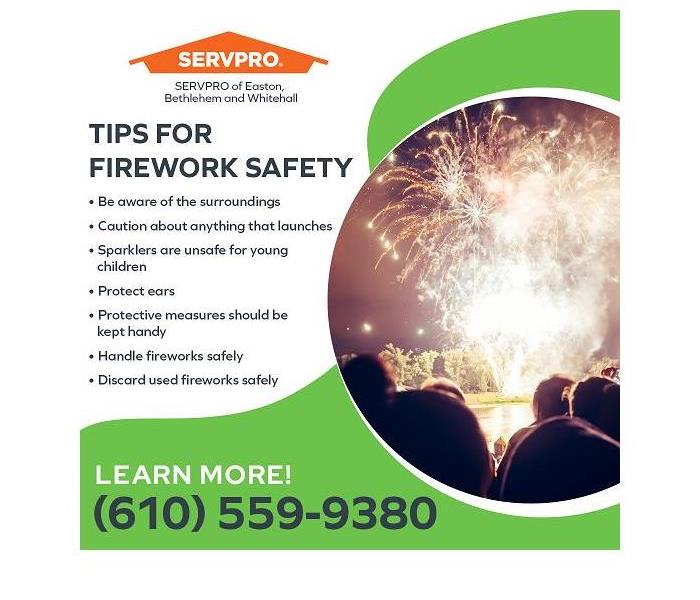 Blog Summary: A list of firework safety tips is shared by SERVPRO of Easton, Bethlehem, and Whitehall.
July is the month associated with family time, outdoor gatherings, cookouts, and fireworks. July 4th is incomplete without fireworks for most families. The spectacular firework displays are a part of childhood memories and tradition. But while fireworks can be fun and exciting, they are dangerous. There is always the risk of a fire accident and resulting fire damage from fireworks. Injury, loss of life, and property damage are all possible outcomes of fireworks in the hands of the untrained. Actually, in some states, fireworks are not allowed to be handled by untrained persons.
According to data from NFPA, fireworks are supposed to have started 19,500 fires in 2018. These fires led to 5 deaths, 46 civilian injuries, and $105 million in direct property damage. Ensuring all precautions are taken to avoid a fire is important when fireworks are handled. SERVPRO of Easton, Bethlehem, and Whitehall provides water and fire damage restoration in different locations around Pennsylvania, including Easton. In this article, this company that is the best company for fire damage restoration lists the firework safety tips everyone should follow. With 91,000 firework injuries reported from ERs across the US in 2018, the importance of following safety guidelines cannot be overemphasized.
Tips For Firework Safety
It is best to limit firework use and check local laws before handling them. But untrained individuals handling fireworks and those planning to watch firework displays from close by should follow some precautions to stay safe.
Some firework safety tips are as follows.
Be aware of the surroundings
It is best to maintain a distance from buildings, or dry areas when using fireworks. This limits the fire risk on cars, houses, or vegetation.
Caution about anything that launches
Severe injuries can be sustained from devices that launch into the sky. They must be avoided especially if packaged in brown paper which is a sign that they are for professional displays.
Avoid relighting duds: A firework that does not go off is still considered lit and must be doused in water like every device that has finished burning. This helps prevent a trash fire.
Sparklers
Though sparklers can be legally purchased in many places they are still unsafe for young children. As they burn at high temperatures, they can instantly melt metal and sear skin. The CPSC advises that children must not play with sparklers.
Keep Children Away: Children are at risk of burns and hearing loss from fireworks. The IAFF data says that a third of firework injuries happen to children under the age of 15. Children must never be allowed to play with fireworks or ignite them.
Protect Ears
Fireworks can cause a sound of 150 decibels at a 3 feet distance. As sound louder than 85 decibels can affect hearing within an hour or two as per the American Speech Language Hearing Association, it is best to maintain a distance from firework displays or use earplugs.
Protective Measures
A bucket of water or a garden hose must be kept handy in case of a fire accident.
Handle Fireworks Safely
Fireworks must not be carried in pockets. Care must be taken never to point or throw fireworks at others. Fireworks must be lit one at a time and not many together. Metal or glass containers must not be used to shoot fireworks off. People under the influence of alcohol or drugs should not handle fireworks.
Discarding Used Fireworks
After burning fireworks completely, they must be doused with plenty of water in a bucket or from a hose. This will reduce the risk of a trash fire and prevent resulting fire damage.
Fireworks can bring a fun and colorful note to special occasions. But they can also bring disaster and destruction. It is essential to take all safety precautions to avoid any chance of fire accidents that cause loss of lives, injury, or fire damage to property. In case of any mishap, a fire damage restoration company may be needed to restore the property to a preloss condition. In Easton, SERVPRO of Easton, Bethlehem, and Whitehall offers fire damage restoration services. This company does residential and fire and water cleanup and restoration for commercial and residential properties. The highly trained technicians at SERVPRO are available 24/7 and are equipped to handle disasters of any size. They can be contacted via phone on (610) 559-9380 regarding fire damage restoration needs in Easton.